Paint for Peace
After finding out that EDUCATION of the ARTS are very marginal in Bermuda schools we hope that we can make a difference. The fact that the ARTS is literally almost non-existent in the Bermuda Schools is rather shocking to say the least.
"45 minutes a week, if you are lucky", is what many school teachers have told us. They say the first subjects to get cut in the schools are the ARTS......
We say the Arts are a vital part of any childs education.
Paint for Peace Art Exhibit
THURSDAY SEPTEMBER 18th (for 3 weeks)
The Bermuda Society of the Arts, City Hall, Hamilton

This project will be championed by the KALEIDOSCOPE ARTS FOUNDATION.
We are pleased to announce that BELCO is a generous sponsor for this project.

To learn more about PAINT for PEACE, please click on the banner below

Resources
CLICK >>HERE<< TO VIEW PAINT FOR PEACE POSTER
CLICK >>HERE<< TO DOWNLOAD PAINT FOR PEACE BROCHURE
CLICK >>HERE<< TO DOWLOAD PEACE ONE DAY RESOURCES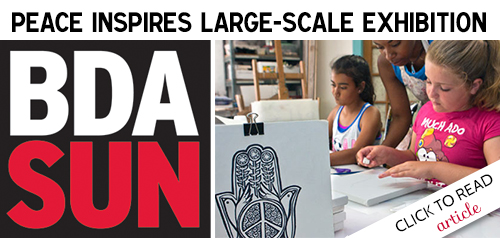 Watch an inspirational video:
Sir Ken Robinson makes an entertaining and profoundly moving case for creating an education system that nurtures (rather than undermines) creativity.